April 6, 2011
October 9, 2009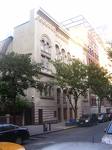 I went to Kehillath Jeshurun on Manhattan's Upper East Side with my father for shacharit today – my first time there for Hoshanah Rabbah. I really liked the davening – 'davening with dignity', as someone described it to me. As true Yekkes, they had scheduled the tefillah from 6:30-8:30, and clearly Rabbi Lookstein (who led the circuits) chose what to recite and what to skip based on keeping to the scheduled end time. However, rather than speeding up, he carefully enunciated the piyyutim which he did say, giving them meaning (and dignity), with no apparent rushing. Really the way it should be done.
I also liked the starting with 7 Torahs on the bimah, with one going back in after each hakafah. My father liked the 'alternate verse call and response'  format.
Saw Dan Ordan there – as R. Yehudah HaLevi said (sort of), he is in the north, but his heart is in the south… 🙂
Nice breakfast in the rooftop sukkah, where we spent a few most enjoyable minutes with R. Meir Soloveichik, Daphna's talmud teacher.
Chag Sameach!
September 25, 2009
March 31, 2009